Travel skincare tips before, during and after a flight to look fresh when you reach your destination
22 March 2023
We know that travelling can wreak havoc on our skin. After all, we've been told countless times how drying airplane air is. So how bad is it exactly?
According to Dr Vivian Yong, an aesthetic doctor at IDS Clinic, the humidity of the recirculated cabin is less than 20 per cent compared to the humidity on land, which is at 40 to 60 per cent. "Anything below 30 per cent is considered too dry for comfort. In addition, relative humidity decreases with altitude, and at the typical cruising altitude of 35,000 ft and 41,000 ft, the relative humidity is less than 1 per cent."
Thus, the fresh air that is drawn into the cabin is extremely dry when flying at those altitudes. "This fresh air is then mixed with the recirculated air, and the passengers and crew are the only sources of moisture," shared Dr Yong.
This dry air not only dries out the skin, but our nasal passages, sinuses, eyes and lips too. But that's not all, she added that this drying out of the mucous membranes can also lead to an increase in us being susceptible to viruses.
To ensure that your skin stays healthy and you arrive looking fresh, we get expert advice on how to maximise your travel beauty routine.
PRE-FLIGHT: THINGS TO PREP YOUR SKIN AND BODY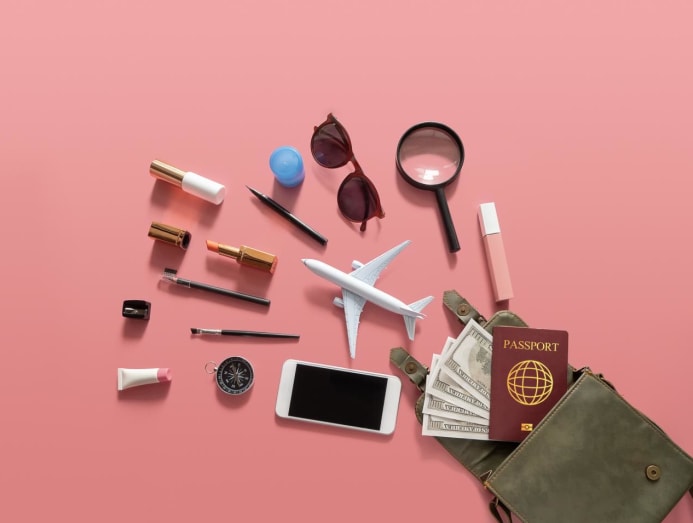 1. LOAD UP ON HYDRATION
Prepping for that flight goes beyond just making sure you've got your passport and plane ticket in your carry-on. To combat the low humidity of the airplane cabin even before boarding, Dr Yong layers products like serums and moisturisers with hydrating properties as part of her pre-flight skincare routine to help enhance her skin's moisture levels.
2. AVOID USING HARSH PRODUCTS
Taking a flight can be stressful to the skin, and the last thing you'd want is to deal with dry and reactive skin when you're mid-flight. Which is why Dr Yong cautioned against using products that can cause irritation or peeling, such as strong exfoliating products or those that contain Vitamin A, retinol or retinoids. "Leave those to when your skin will not be subjected to further stressors, such as the dry cabin air."
IN-FLIGHT: THINGS TO DO TO ARRIVE FRESH-FACED AND GLOWING
1. APPLY, AND RE-APPLY, YOUR SUNSCREEN
According to Dr Yong, at higher altitudes, the exposure to UV radiation is higher compared to on ground. "The combination of a reduced cloud cover, reflection off the clouds, and being significantly closer to the ozone layer, which has trapped a lot of the sun's UV radiation, all contribute to an increased UV exposure when flying."
And of course, don't forget to lower your window shade too. Said Dr Yong, "While the materials of the airplane windows can block out UVB rays, they stop only about 50 per cent of the UVA rays from penetrating."
2. STAY HYDRATED – INSIDE AND OUT
Besides drinking lots of water, keep skin well-hydrated with moisturiser or a face mist. Ong shared that she's seen her ex-colleagues remove their makeup during long flights and re-do their skincare to hydrate their skin, before carefully re-applying their makeup again.
3. KEEP SKIN MAKEUP-FREE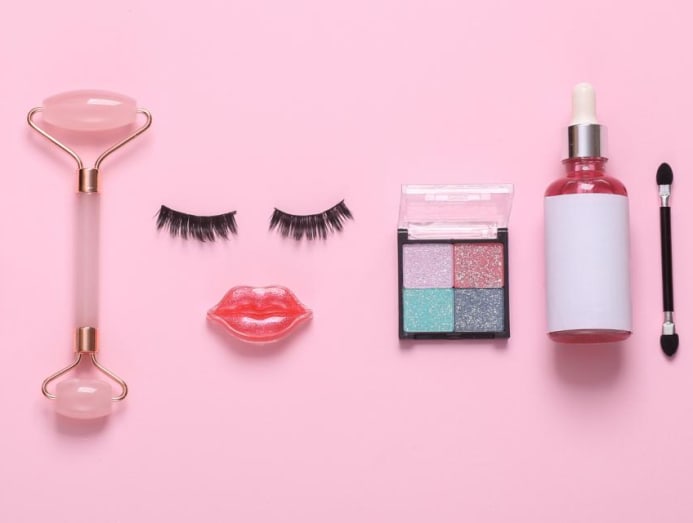 Just as you don't wear makeup to sleep, you really shouldn't be wearing makeup on flights, especially if you're on a red-eye flight.
"The low humidity onboard dehydrates the skin, which may lead to an overproduction of sebum. With heavy foundation trapping dirt and sebum for an extended period of time, it becomes the perfect breeding ground for acne to form," explained Dr Tan.
In fact, all our beauty enthusiasts and skin doctors aren't fans of wearing makeup during a flight. With Ho and Ong both sharing that they remove their makeup on board, apply skincare, and then if need be, re-apply makeup just before landing. Said Ong, "I always feel that my skin can breathe better without makeup onboard."
But if you insist on wearing makeup so you don't look like death during your flight, Dr Yong advised going for a minimalist approach. "Avoid heavily pigmented, waterproof or long-lasting makeup as these often contain ingredients that can cause the skin to be even drier. Instead, swap your usual full-on makeup with alternatives like tinted moisturiser and tinted sunscreen, as well as a lip balm in your favourite shade."
4. APPLY LIP BALM FREQUENTLY AND LIBERALLY
Besides a face mist, Ong shared that she always keeps a lip balm handy in her bag on flights. "It's very essential for all passengers!"
Yes indeed, said Dr Yong. In fact, she recommends not only frequent, but also liberal application of lip balm during your flight. "The skin on the lips is thinner and more delicate than the skin on the rest of the body, and is often the first area to show signs of drying out. Chapped, cracked lips are not only un-aesthetic, but can also be painful."
And if your lip balm comes with SPF, that's even better.
5. SKINCARE SAMPLES ARE GREAT, BUT…
Yes, there is a cap on how much skincare you can bring on board a flight, which is what makes skincare samples such a great packing option.
And while Dr Yong shared that she does pack samples that she doesn't manage to use at home when travelling, there is a caveat to what she brings along. "I try to use samples of products that I am already using or have tried out without any issues. Being onboard with possibly no means to treat irritated skin, as well as being subjected to the stresses on the body whilst crossing time zones, it is not an ideal situation to be trying out new products."
Read full article in CNA Lifestyle