[ Harine ] My Second Visit to IDS Skincare - Cryo Therapeutic Treatment at IDS Aesthetics
04 June 2021
If you had read regarding my first experience at IDS Skincare here, you would have known the various products that I received from them and my first impressions on them. I have been diligently using their products and I genuinely feel that they are working well for my skin slowly but steadily. The progress is gradual and not swift which is quite convincing.
On my second visit to IDS Skincare, I was asked to assigned to consult Dr.Ben as Dr.Michelle was away from clinic, who checked on my skin again to see the progress and he suggested the Cryo therapeutics treatment which will help hydrate my skin and will reduce the occurrence of acne. After the consultation, I was led to the treatment room and given a cupboard to store my belongings.
I was assigned to one therapist who was extremely friendly and she was very careful in each and every step.
Scrubbing & Black Heads Removal
My therapist did a great job with respect to removal of the black and white heads.
Scrubbing away dead cells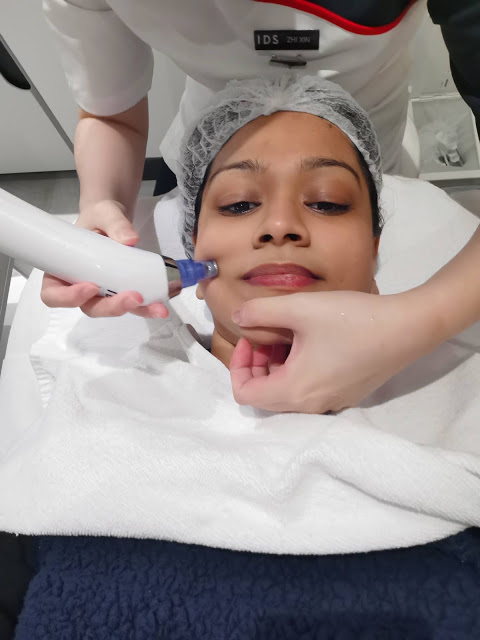 Suctioning the external dead cells
Cryo Therapeutics Treatment with Serum
Cryo Therapeutics Treatment Experience :
The facial process was quite simple but effective. A serum was applied and a radio frequency instrument was used to seal the serum into the various layers of the skin. It was so cooling and my skin felt an instant relief. Another hydrating sheet mask was used and the same process was repeated and voila the facial was over.
Cryo Therapeutics Treatment with Sheet Mask
My face felt brighter and softer after the facial and it still does feel quite nice. I have not got any breakouts post the facial unlike in some facials where I have got tiny bumps after a few days. I am diligently following their skincare regimen as well and I can see reduction in my acne scars and I am looking forward to my next session which will be next month.
You can visit www.idsskincare.com for more of their products or www.idsaesthetics.com if you wish to know more about their facial treatments.
*Credits to Harine
Visit Harine's blog post here.