[ Elizabeth ] Stepping into the Big 4 (Part II) with IDS (ft. IDS Aesthetics)
12 July 2021
To me, turning 40 is a big deal.
Everyone tells me it's downhill from here. Your weight goes up, your skin sags, and your metabolism will be non-existent. Cellulite will pile and your fine lines will increase. So until I come to 50, which is a bigger deal, I'll do everything and anything to de-auntify myself.
I recently tried Pep.Blue Deep Treatment at IDS Aesthetics because I really need to see my face lift and my collagen stimulated. A while back I thoroughly enjoyed (and still am enjoying!) trying the IDS Skincare range recommended to me by Dr Michelle Wong from IDS and I couldn't be happier to be back at her clinic again to let her know that the RC and IM really worked for my dry, constantly-masked skin and to hear her recommendation for a facial treatment I should try.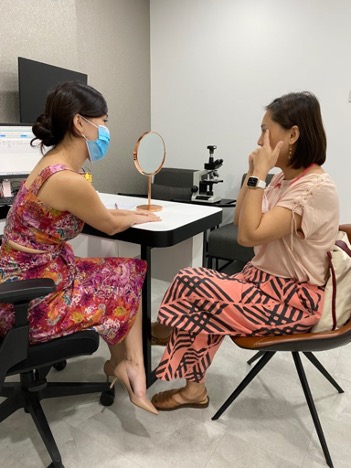 Here I am, back at Dr Michelle Wong's office at Innovative Dermatological Solutions (IDS) telling her that I need help with some fine lines below my eyes.
And so a Pep.Blue Deep Treatment was what Dr Michelle recommended – and in a jiffy I was shown to a calm, quiet and nice-smelling treatment room to await my therapist.

Getting ready for deep cleansing and treatment
Her nimble hands gave me a good deep cleanse before she applied IDS' proprietary Pep.Blu Serum and then starting me on a micro-current-like deep massage of the serum in my face, which I later learned is called 'Non Invasive DEEP Electropration Technology'.
What it really means is that there's intense prickling for a while, somewhat like a lot of needles just vibrating through to your skin, delivering the serum deep into where they should go.

Unlike traditional permeation machines, this one from IDS creates channel openings in the skin to allow permeation of solution to be absorbed.
For sure, it's not the typical relax-and-close your-eyes kind of facial but hey, the results made me want to bear with the microcurrents running from that machine:
What a difference half a treatment makes: my right is more lifted and looking less dull than the left side!
After the electropration, I did have a close-your-eyes-and-sleep kind of facial when the Pep.Blue mask was applied under LED light. Caught 40 winks, which was not too bad. I thought the light would affect me but no, I was totally relaxed.

Time to get some rest after the electropration!
I would definitely recommend this treatment if you have dull skin, need a lift for sagging areas and desperately want some help with fine lines. I walked out feeling fresh and ready to conquer the world – till my next treatment, at least!

No makeup, all lifted, and feeling fresh
Loving my #IDSjourney so far and always feeling #IDServe it with their pampering.
Disclosure: All opinions here are my own, including all the apprehension about turning 40. Your experiences may be different but if they are similar, IDS is a great place to turn to!
*Credits to Elizabeth
Visit Elizabeth's blog post here.