Buddleja Officinalis – Why You'll Want This In Your Skincare Product
04 June 2019

What is Buddleja Officinalis and why you need to know about this flower extract?
It is a mountain flower that is able to adapt to the high levels of solar radiation. So what makes this botanical so special? This extract is exceptionally rich in phenylpropanoids, a powerful antioxidant and free radical scavenger, that helps to stimulate cellular detoxification systems, protect from inflammation, prevent and reverse photo-aging caused by light radiations from Ultraviolet (UV), Infrared (IR), and Blue light. Incidentally, this flowering bud has also traditionally been used as folk medicine in Korea and China to treat vascular diseases and numerous eye infections such as conjunctival congestion and even simple glaucoma.
Many people may have understood about UV and that UVB causes the burning while UVA causes the damage that age your skin, issues associated with High-Energy Visible (HEV) or Blue light and IR are currently still not quite addressed or understood much by the general public – despite research suggesting that HEV and IR have the potential to cause more damage to the skin than UVA because they penetrate much deeper into the hypodermis.
If you haven't already heard, Blue Light is found virtually everywhere – in all your digital screens like TV, computer, laptop, smart phone, tablet, in IR, fluorescent and LED lighting as well as the sun. Compared to UV light wavelengths that range from 280 – 400nm, Blue Light rays are among the shortest, and highest energy wavelengths in the visible light spectrum measuring at ranges 380 – 500nm.
Do You Know?
4 Days Of Sitting In Front Of A Blue Screen Can Have The Same Effect As 20 Minutes In The Sun Thanks To The Blue Rays!
How Blue Light Can Affect You
Disrupts the circadian rhythm (your body's natural clock / sleep pattern) and suppresses melatonin
Eye strain, dry and irritated eyes
Promotes stressors in the skin that leads to photo-aging such as hyperpigmentation and wrinkles
Skin barrier impairment that causes skin imbalance with effects like dryness or acne
This is where Buddleja Officinalis comes in. A key active ingredient in IDS Skincare DermaShield Serum (DS) – your latest beauty arsenal against all that's harmful to your skin. Consider DS your daily invisible 'screen protector' against the harmful effects if HEV or Blue light, IR light and environmental pollutants. When paired with a sunscreen, you can now be sure you're getting maximum protection. With this ultimate protection in place, your skin can then start to receive proper healing, making whatever skincare products that you put on work even better than before!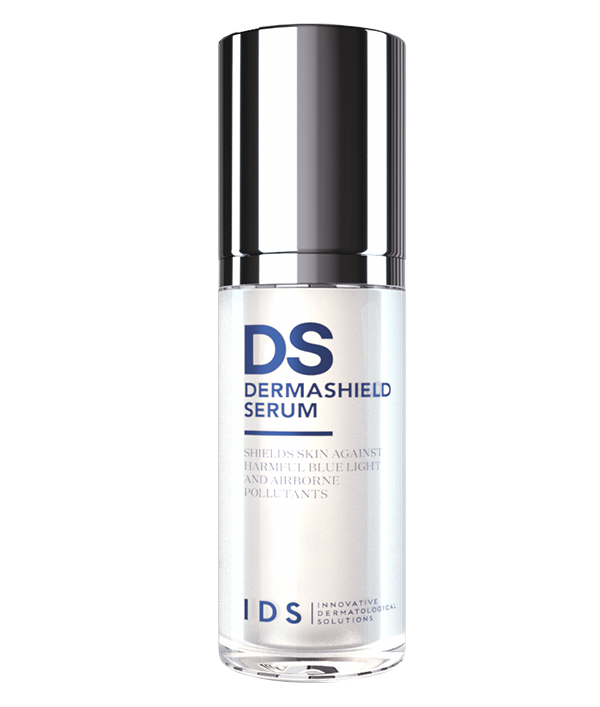 What's Inside DermaShield Serum (DS):
Buddleja Officinalis Flower Extract
Protects the skin against the damaging effects of light rays, UV rays, infrared rays and blue light.
Niacinamide (Vitamin B3), in combination with Pyridoxine HCl (Vitamin B6) and Tocopherol (Vitamin E)
Helps to prevent HEV light skin-damage.
Pepha-Age
Microalgae extract that helps to stimulate skin's own defense against UV and blue light.
Alteromonas Ferment Extract
Reduces PM2.5 adhesions on skin's surface and protects skin and cell integrity against toxic chemicals (heavy metals, hydrocarbons) from cigarette smoke and fuel exhaust.
Ectoin
A multi-functional active ingredient that aids in preventing cell damage and also protecting the skin from the effects of UVA- induced cellular damage.
Marigold (Calendula officinalis flower) extract
A 'natural' blue-light filter to help absorb and filter out the blue light in both natural and artificial light that may result in skin damage. It also reduces possible free radical damage, slowing the rate of oxidative stress and visible signs of skin aging.
Your Beauty BFF
IDS Skincare DermaShield Mask (DM) is your perfect beauty companion while you work at home (if you really must) or when binge watching Netflix. This facial sheet mask is packed with all the ingredients to help protect your skin from damage caused by blue light exposure, with added moisturizing and skin-brightening benefits.

What's Inside DermaShield Mask (DM):
Calendula Officinalis Flower Extract
Marigold (calendula) extract is known for its anti-inflammatory properties and as a wound healer. It contains lutein which helps to filter the HEV or blue light by as much as 90%.
Pyrus Malus (Apple) Fruit Extract
High in antioxidants to help skin fight against free radical damage, maintain youthful elasticity and keep skin feeling smooth.
Edelweiss EP
Contains high levels of leontopodic acid which has strong antioxidative and DNA-protecting properties.
Hyaluronic acid
Able to deliver lasting moisture to the skin.
Globularia Cordifolia Callus Culture Extract
Provides protection from oxidative stress thereby reducing the effects of cellular aging.
Hydrolyzed Royal Jelly Protein
Stimulates collagen production and reduces melanin production.
Licorice Root Extract
Anti-inflammatory and anti-irritant properties that help to calm and soothe the skin.
Arbutin
It blocks Tyrosinase activity and reduces the skin's melanin production, leaving complexion looking brighter and fairer as a result.
Available at Isetan Tampines, Isetan Katong, Metro Causeway Point, Metro Centrepoint, Metro Paragon, Robinsons The Heeren, IDS Clinic at #05-09 to 10 Novena Specialist Center, IDS Aesthetics at #05-07 to 08 Novena Specialist Center, and https://jyx.shop/.
More from IDS
So You Think You Have Sensitive Skin?
Cream Vs Sheet Mask – Which Is Better?